Travel agencies
Travel agency "Dugi otok"
Dear guests, we introduce ourselves
Dugi otok travel agency understands how precious and important travel is so our priority is to deliver exactly what you are looking for in Dugi otok, finding the holiday that best meets your dreams. We are situated in Verunic at Gorgonia Apartments in Dugi otok.
Our services
hotel and vacation rentals booking in Dugi otok
bike and boat rental
day excursion to the National Park Kornati and nearby islands
fishing
information and assistance
transfer from and to the airport
gift voucher
We'll be glad to receive your visit in Verunic or virtually on www.dugiotok-travel.com for any information.
Kind Regards,
Miriam & Gianni
23287 Veli Rat - Verunic
Dugi Otok - Croatia
IDK: HR-AB-23-060107794
Fax 00385 23 378154
Tel: +385 23 378 153
Mob: +385 91 737 9823
info(manki)dugiotok-travel(tocka)com
www.dugiotok-travel.com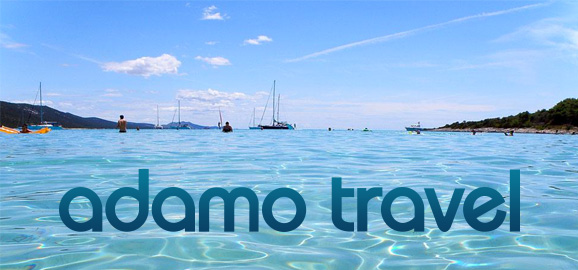 Adamo Travel
Welcome to Dugi otok!

We are the only DMC agency, specialized in providing tourist services for the area of Dugi otok. We are established in year of 2007 and are a team of young and educated people whose goal is to make your stay on our beautiful island easier.
Your vacation, is our work!
Our office is in Sali and in our offer you will find the largest selection of private and hotel accommodation on the island as well as other tourist services. Besides accommodation, we offer all kinds of additional tourist services and facilities: you can rent a bicycle, scooter, car, kayak or boat. We also organize individual and group tours to the National Park Kornati and Nature Park Telascica.
We also offer full-service travel organization for whole Croatia.
In our office, you can buy boat tickets for the National Park Kornati and Nature Park Telascica.
We are waiting for you in our Sali office or via E mail info(manki)adamo(tocka)hr!
For more information about our offer, visit our website www.adamo.hr
Your ADAMO TRAVEL team!
Sali 112, 23281 Sali, Dugi otok, Croatia
ID code: HR-AB-23-110002322
Tel/Fax: +385 23 377 208
GSM: +385 99 518 2929
info(manki)adamo(tocka)hr
www.adamo.hr