The most beautiful way to experience the landscape in its entirety is by walking and biking. To all adventurers and others who want to truly get to know its beauty, Dugi otok provides an opportunity to take a tour on arranged trekking and biking trails that stretch across the island.
The rugged landscape of Dugi otok will give walkers and cyclists an incredible view of the local waters of Zadar and the more demanding visitors will enjoy the more difficult routes which are spread across the island in countless combinations.
The experience will be complemented by the untouched nature as well as by picturesque villages that will be a welcoming resting-place for fans of more stronger, physical challenges.
Mountaineering
Although the highest point above sea level of Dugi otok is only 338 m high, its geomorphologic features make it an ideal place for lovers of trekking and mountaineering.
The landscape of Dugi otok is mostly mountainous and the combination of rocky and wooded areas makes it a special challenge. Therefore, the initiative for marking and registration of mountain tracks on Dugi otok started.
One of these is the mountain track towards the Mount Orljak , 270 m of height, marked and registered with the Croatian Mountaineering Association.
From the top of the hill you have a view overlooking the wide waters of Zadar, and the effort of climbing to the top will be justified.
Hunting Tourism
On Dugi otok there are three hunting zones, of which the best is the one in the Nature Park, where you can participate in hunting mouflons.
Since this is an open hunting ground, with rocks and small plants, mouflon hunting is specially interesting and exciting.
Mouflons were brought to Telašćica 50 years ago, whence they spread throughout the island, and their populations on the island is stable.
Kayaking
Telašćica
Telascica bay is one of the safest natural bays on Adriatiac, it is a part of Nature park Telascica and all of that makes it one of the most beautiful places for kayaking.
Regarding all preconditions and astonishing nature, kayaking is ideal way to explore the bay in a unic way.
More information about kayak renting: GSM: +385 (0)98 891 036 – Mate Frka
mate(tocka)frka(manki)gmail(tocka)com
www.taxidugiotok.com
GSM: +385 (0)91 784 7547 – Marko Mrše
hello(manki)malikadventures(tocka)com
www.malikadventures.com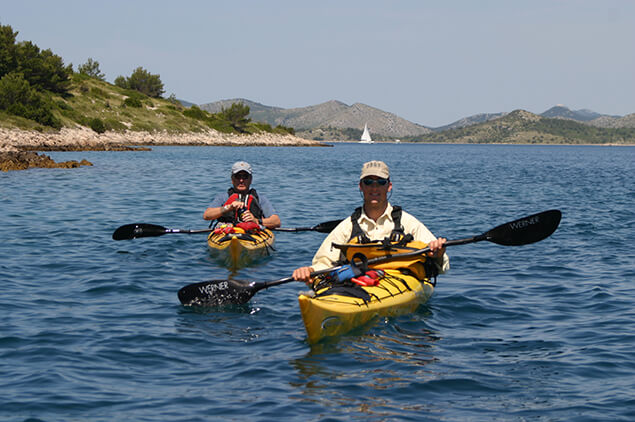 Veli Žal
There is a crystal blue sea on Veli zal beach and we offer an unforgettable experience of exploring a seabedimage0.jpegimage1.jpegimage2.jpeg with our crystal kayaks. You can rent our kayaks for as little as half an hour to a whole day. You can even venture out on a safari from Veli zal beach to amazing Golubinka cave and explore hidden beaches and secret bays. All these activities are extremely weather dependent so reach out to us for an advice, information or to reserve your kayak.

Mob: +385 (0)95 711 6161
Contact person: Julien Mouly
Web location: kayak-bicycle-rental-taxi-dugi-otok.business.site